Home » Personal » Square Dance » Choreography
Blocked mind with Blocks setup
Establishing Blocks from 1/4 Tag formation
1/4 Tag formation

1/2 of 1/4 Out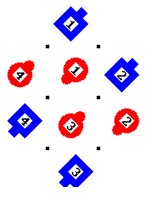 Imagine that you are here

Notes
The 1/4 Out means turning 1/4 away from your smallest formation, in this case from the right-handed miniwave.
Always examine the direction correctly before turning. You have enough time.
Never move from your spot. Just turn.
Don't shout hints at the other people, rather point by hands to make your blocks more visible.